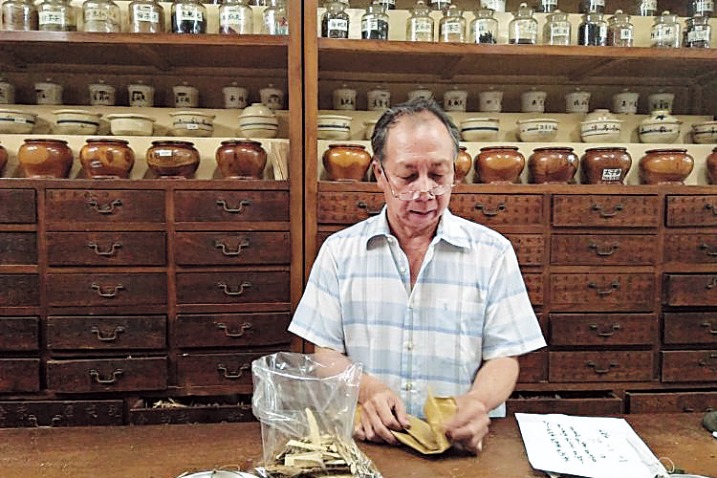 Millions of Indonesians use Chinese medicines to fight a wide variety of symptoms
Lily Heru and her husband still use traditional Chinese medicine when they feel unwell.
The well-educated couple, who run a textile and clothing store in West Jakarta, Indonesia, use the herbal medicine Lian Hua TCM for headaches, sore throats, coughs and also to relieve fatigue after a stressful day.
They are among millions of Indonesians, regardless of background, who believe in the effectiveness of traditional Chinese medicines, herbal remedies and supplements, commonly known as obat cina. These items are said to be effective in curing minor ailments and killing or stopping the spread of a particular type of bacteria and virus that cause serious illnesses.
As in other Southeast Asian countries, traditional Chinese medicines and herbal remedies have been popular in Indonesia for hundreds of years.
According to historians, Chinese doctors first settled in the archipelago in the 16th century after the arrival of Admiral Cheng Ho, a Muslim and special envoy to the Chinese emperor. Indonesians believe that the Admiral played a role in the development of Islam in Southeast Asia.
The latest evidence of TCM's strong presence in Indonesia was found at this year's 39-day Jakarta Fair trade exhibition, which ended on Sunday. Visitors to the popular annual exhibition could easily access TCM booths capable of accommodating a dozen visitors at a time.
The displays included those of the country's largest TCM importer, Saras Subur Abadi, and SOHO Indonesia Pharmasi, one of its largest producers of traditional medicines.
These two companies and many others have exhibited their medicines, herbal remedies and supplements at the Jakarta fair in previous years, but not in the past two years due to the COVID-19 pandemic. This year, at Saras Subur Abadi's stand, sales representatives met the needs of consumers in the 15 cities in Indonesia where its products are sold.
In addition to traditional herbs and medicines, cars, household appliances, furniture, electrical items, handicrafts, banking and service products and cosmetics are sold at the Jakarta fair, where some 2,500 businesses have stalls.
A recent visit to the exhibition found a number of potential customers at TCM booths displaying items such as Lo Han Juo, Fufang Ejiao Jiang and Yunnan Baiyao, which are designed to fight fever and sore throat, maintain the immune and gastrointestinal systems and heal wounds. .
A woman who bought Zheng Gu Shui at the Saras Subur Abadi stall said she would rub the ointment on her young son's bruised limbs. She said her family uses traditional Chinese medicine as an alternative to traditional Indonesian medicines and more expensive "modern" medicines which are also on display at the exhibition.
In many parts of Indonesia, TCM products are sold in pharmacies, along with other pharmaceutical products.
A pharmacy owner in the northeastern city of Manado said the majority of customers in the region use TCM for heart failure and also for less serious illnesses.
Pien Tze Huang was among the most popular and expensive products offered by Saras Subur Abadi at the Jakarta Fair. Consumers have reported that Pien Tze Huang can be taken on prescription by TCM practitioners or "modern" doctors, and that it helps cure infection after a C-section and also helps liver function.
According to a widely held TCM theory, Pien Tze Huang disperses body heat, cleanses toxins, promotes blood circulation, and relieves swelling and pain.
Marthina Narvathirosa, public relations manager at Saras Subur Abadi, said Fufang Ejiao Jiang is also selling well in Indonesia because it helps speed up the recovery of dengue fever patients. Indonesians usually buy this product for family members who have this disease, and doctors say that it significantly helps increase peripheral blood cells and mononuclear cells needed by these patients.
Since TCM products are effective in treating diseases, curing patients, and helping the human body function, the Indonesian government has long permitted the import and consumption of TCM and related ingredients.
However, authorities have strictly controlled imports of these products since 2009, some eight years after the establishment of Indonesia's Food and Drug Surveillance Agency.
In mid-2020, as COVID-19 cases and related deaths in Indonesia began to rise significantly, fears over the growing number of fake drugs prompted authorities to impose even tighter controls on imports. of TCM, including Lianhua Qingwen capsules.
Many sources said that this traditional Chinese medicine helps patients with COVID-19 by dispersing fever, eliminating toxins and improving lung ventilation.
Narvathirosa urged people to be smarter when buying MTC. She said they should make sure that the products they buy are registered with the authorities, that the information on the packaging is printed in Indonesian and that these products are imported by a reliable company.
Widespread recognition of the effectiveness of traditional Chinese medicine and other traditional medicines and supplements prompted then-president Soesilo Bambang Yudhoyono to promote studies of traditional medicine at Indonesian universities, including public institutions. leading such as Universitas Indonesia in Jakarta, Universitas Gajah Mada in Central Java, Universitas Airlangga in East Java and Universitas Hasanuddin in South Sulawesi.
Some private universities have also implemented traditional herbal medicine studies with TCM as part of their degree programs.
Roshamur Cahyan Forestrania, a professor at the Faculty of Pharmacy, Universitas Indonesia, said the institution offers a master's program in herbal medicine. "TCM is covered in our ethnomedicine and ethnopharmacology conferences, but it's not yet taught in specialist classes," she said.
The school invites lecturers who are experts in TCM to speak in its courses and during the public seminars it organizes.
Forestrania, who obtained her doctorate in phytochemistry and pharmacognosy from Ohio State University in the United States, said that an increasing number of new students are studying at the herbal pharmacy school of Universitas Indonesia, partly because its teachers, including foreigners, are highly qualified and also because the school has excellent facilities.
However, she said the number of students has decreased because many of them want to put their knowledge into medical practice.
This is understandable, as TCM practices are becoming more prevalent in Indonesia and are a lucrative business. There is even a TCM department store about 200 meters from the presidential palace complex in Jakarta, near the city center.