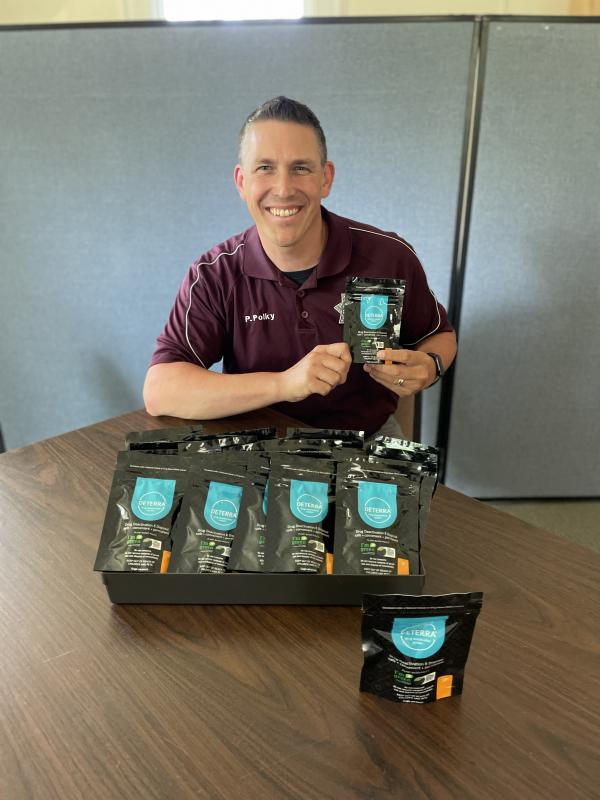 Deterra bags allow safe disposal of medications anywhere
The Knox County Community Health Coalition, Knox County Sheriff's Office, and Rockland Police Department work together to provide safe and environmentally responsible disposal of unwanted or unused medication through Deterra bags.
Biodegradable bags allow home disposal of medications. In a simple three-step process, a user deactivates the medication by putting it in a Deterra pouch or container, adding water, shaking and discarding it, according to a press release from the organizations.
The patented Deterra system deactivates prescription drugs, pills, patches, liquids, creams and films. This makes them inert, unavailable for misuse and harmless to the environment, according to the release. This is useful between drug take-back events or for those who cannot be transported to a safe place of disposal like the police department.
According to information published on the Deterra website: "Each patented Deterra pouch contains a water-soluble inner capsule containing proprietary activated charcoal. Once the medications are placed in the pouch, hot water is added which dissolves the inner capsule, releasing the activated charcoal Deterra works on pills, patches, liquids, creams, and films that allow them to be adsorbed by carbon, rendering them inert and unsalvageable for all practical purposes.
Two-thirds of teens who misused pain prescriptions in the past year got them from family and friends, including the medicine cabinets in their homes, making it essential to protect medications at home. home, according to the statement, citing data published by Partnership for Drug-Free Kids.
"The Rockland Police Department is always proud to partner with KCCHC," said Rockland Police Chief Tim Carroll. "Being able to provide Deterra bags to create a safer community through drug disposal education is one more opportunity we have to provide services through collaboration."
Pick up free Deterra pouches today by stopping by the Knox County Sheriff's Office or the Rockland Police Department.
Funding for this project was provided by Maine CDC/Maine Prevention Services.
"A big thank you to Sheriff Polky and Chief Carroll for their commitment to the communities they serve," the statement read.
Knox County Sheriff's Office, (207) 594-0429, 301 Park St, Rockland, ME 04841
Rockland Police Department, (207) 594-0316, 1 Police Plaza, Rockland, ME 04841
To learn more about local involvement, contact Jamie Lovley, Substance Use Prevention Specialist, Knox County Community Health Coalition – 236.6313, Ext. 4; [email protected]