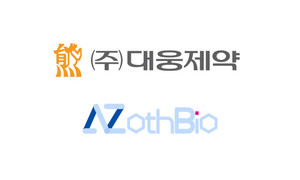 Daewoong and AZothBio to co-research new AI-based cancer drugs
Daewoong Pharmaceutical said on Wednesday that the company signed a contract with AZothBio to research and develop synthetic-lethal cancer treatments using artificial intelligence on Sept. 16.
AZothBio is a new AI platform company developing drugs. The Company's AI-based new drug development platform, MoliSTA, can quickly and accurately discover new active substances by predicting the activity of low molecular weight compounds for specific targets
plans to significantly shorten the research period by developing new optimal anti-cancer drug substances, improve the chances of success in the development of new anti-cancer treatments, and expand its new drug pipelines in the anti-cancer field using the AZothBio's AI platform.
Under the contract, AZothBio will explore synthetic lethal cancer drug candidate materials based on its AI platform, while Daewoong plans to commercialize candidate substances by conducting efficacy evaluation and clinical development.
"In Daewoong's process of pursuing and strengthening the development of new drugs using artificial intelligence, it is very significant to promote open collaboration with AZothBio, which has built an innovative new drug platform based on AI," said Daewoong Pharmaceutical CEO Jeon Seung-ho. . "Through this agreement, we will accelerate the development of next-generation cancer drugs and help improve patients' quality of life.
AZothBio CEO Shin Jae-min said, "Daewoong Pharmaceutical has contributed greatly to the development of the pharmaceutical industry through the development and supply of new drugs for a long time. I expect Daewoong Pharmaceutical's R&D capabilities and our AI technology to be combined to develop a treatment with excellent efficacy.
In July, Daewoong Pharmaceutical was selected as a participant in the "Cooperative Education Research Project Based on New Drug Development in the Field" co-sponsored by the Ministry of Health and Welfare and the Korea Manufacturers Association of pharmaceuticals and biopharmaceuticals.