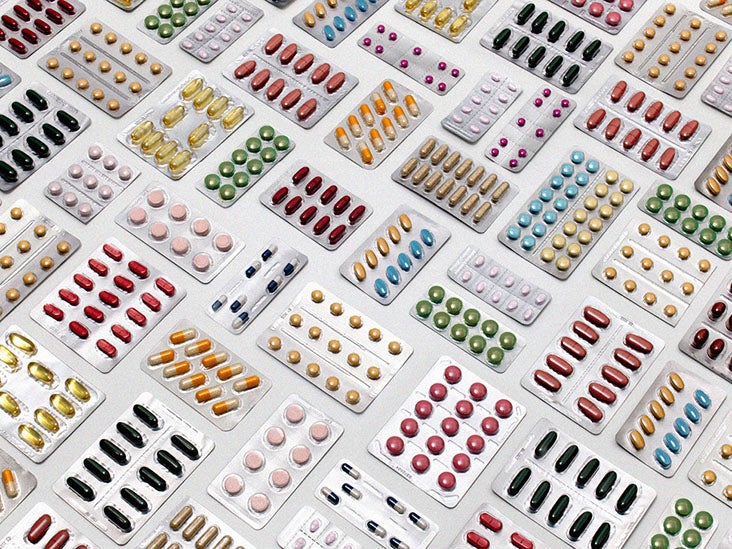 Common migraine medications may help treat obesity, mouse study finds
The researchers investigated whether triptans, commonly used migraine medications, induced weight loss in obese mice.
They found that the drugs tested caused weight loss and improved glucose homeostasis in obese mice.
The results suggest a possible new target for weight loss therapies.
According to Centers for Disease Control and Prevention (CDC)approximately 42% of people in the United States live with obesity, a condition linked to an increased risk of multiple health problems like heart disease, cancerand type 2 diabetes. Obesity is also associated with an increased risk of death from COVID-19.
Excessive calorie intake is known as the main cause of weight gain. While researchers have identified genes linked to obesity and neural circuits related to the regulation of satiety and food intake, so far drug targets have remained rare.
Since the 1960s, researchers have studied the central serotonin (5-HT) system as a possible target for weight-loss drugs. Eventually, drugs targeting 5-HT 2C (Htr2c) receptors were developed. Examples included fen-phen and lorcaserin (Belviq)but both have since been withdrawn due to severe side effects.
Nevertheless, there are 14 other serotonin receptors, which are still being researched to determine if they affect appetite.
Further research on these receptors could help researchers develop drugs to reduce appetite in obese people.
New research has found that triptans, a class of drugs widely used to treat acute migraine and cluster headaches, can also reduce weight in obese mice by targeting the serotonin 1B receptor (Htr1b). The study has just been published in the Journal of Experimental Medicine.
For the study, the researchers tested six prescription triptans on mice. They administered the drugs after an 18-hour fast and measured their food intake after the fast.
They found that four of the six triptans suppressed fasting-induced hunger, and frovatriptan produced the strongest effect.
To find out the impact of frovatriptan on food intake and weight, the researchers engineered mice that lacked either Htr1b or Htr2c, the serotonin receptor targeted by fen-phen and lorcaserin. Frovatriptan had no effect in mice without Htr1b. However, it continued to affect mice lacking Htr2c. The results confirmed that the drug works by acting on Htr1b and not Htr2c.
The researchers then tested the anti-obesity effects of frovatriptan in diet-induced obese mice. To do this, they fed male mice a high-fat diet for 7 weeks. The mice were then split into two groups and treated with frovatriptan or saline while continuing to eat a high-fat diet.
They found that a daily dose of frovatriptan reduced body weight by an average of 3.58% over 24 days. Meanwhile, mice that received the saline solution experienced an average weight gain of 5.83% over the same period.
Mice infused with frovatriptan for 2 weeks showed weight loss effects similar to controls. Additionally, magnetic resonance analyzes revealed that the frovatriptan infusion reduced fat mass, but not lean mass, after 14 days. Mice treated with frovatriptan also showed improved glucose homeostasis in a glucose tolerance test.
"This is an interesting study that found that frovatriptan reduced appetite, food intake, and body weight in mice," said Dr. Glen D. Solomon, MACP, FRCP, Professor and Director. from the Department of Internal Medicine and Neurology at Wright State University. not involved in the study, says Medical News Today.
"If this study shows similar results in humans, it will offer another therapy for managing obesity. With the obesity epidemic in Western culture, any effective therapy is welcome. Cost remains a major limitation in prescribing drugs for obesity. If a low-cost generic drug were available, it could have a significant benefit to society.
– Dr. Glen D. Solomon, MACP, FRCP
When asked how triptans work to reduce weight, Chen Liu, Ph.D., assistant professor in the Department of Internal Medicine and Neurosciences at the University of Texas Southwestern Medical Center, one of the authors of the study, said DTM:
"Triptans bind and activate serotonin 1B receptors. These receptors are found in a small group of neurons in the hypothalamus that normally promote food intake. Activation of serotonin 1B receptors in these cells inhibits their function and thus suppresses appetite.
The researchers noted that because triptans tend to be used only short-term for migraine, patients may not have noticed longer-term impacts on appetite and weight loss. When asked if this meant that frovatriptan might be safe for longer-term use, Dr. Liu replied:
"The first generation of triptans such as sumatriptan can cause vasoconstriction and an acute increase in blood pressure. Therefore, they are not suitable for obese patients. In contrast, newer generation triptans like frovatriptan had no effect on blood pressure or heart rate.
"Furthermore, several clinical studies evaluating the cardiac safety of these drugs have shown that they are relatively safe after frequent and long-term use, even in patients with high blood pressure or coronary artery disease," he said. he adds.
The researchers concluded that their findings suggest that Htr1b is a novel target for 5-HT weight loss therapies.
They added that future work is now warranted to comprehensively assess the effects of triptans and other Htr1b agonists on appetite, body weight and safety.
Asked about the limitations of the study, Dr. Solomon noted that the study was conducted in mice, meaning it remains to be seen whether the results translate to humans as well.
"We need to assess whether long-term use of triptans produces long-term anorexic effects or whether the appetite suppression is short-lived," Dr. Solomon said. "We also need to assess the long-term safety of daily use of triptans in a population already at increased risk of cardiovascular disease due to obesity and often diabetes."