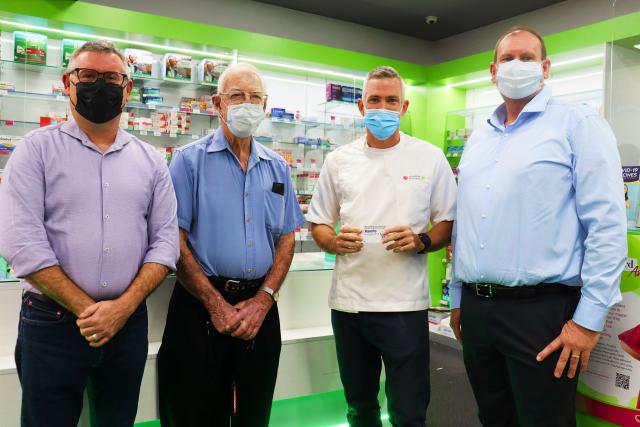 Commit to reducing drug costs
By Matthew Pearce
The federal Labor plan to cut prescription drugs if elected is good news for North Rockhampton retiree Alan Bambrick.
Mr Bambrick, 90, said he regularly takes 12 different medications.
"I had a heart valve implant three years ago and I also have rheumatoid arthritis, but as long as I take my meds regularly I'm kidding," he said.
Speaking at Priceline Pharmacy in Stockland Rockhampton, LNP candidate for Capricornia Russell Robertson said Central Queenslanders would save $12.50 on medical scripts under an Albanian Labor government, with a pledge to lower the cost of common medicines.
He said the plan would save Australians more than $190 million in out-of-pocket costs.
The ALP has pledged to reduce the maximum copayment under the Pharmaceutical Benefits Scheme (PBS) from $42.50 to a maximum of $30, a reduction of 29%.
"Under the Labor Party proposal, someone taking one drug a month could save $150 a year, and those taking two drugs a month could save up to $300 a year," Mr Robertson said.
If the ALP is elected, the PBS changes will come into effect on January 1, 2023.
"Existing safety net provisions will continue and all scripts currently counting towards a patient's safety net will continue to do so."
He said an Albanian Labor government would ensure that people in CQ have access to affordable medicines by listing all medicines recommended by independent experts on the PBS.
"PBS is designed to keep medicines affordable for Australians. PBS and Medicare are the cornerstones of our health care system.
"An Albanian Labor government will strengthen Medicare and the PBS."