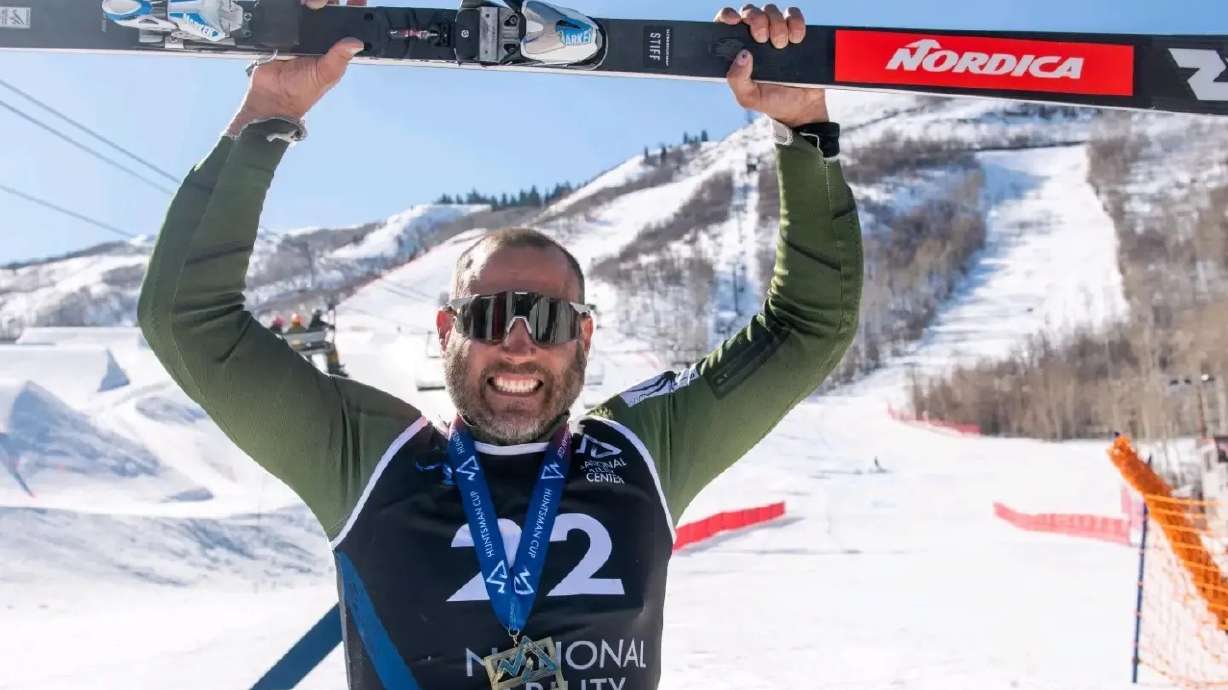 Cancer, drugs, and then leg loss: This Utahn's road to the Paralympics wasn't easy
Matthew Brewer lifts his ski after receiving a gold medal at the Huntsman Games in Park City February 12. After years of hard struggles, he will soon be competing in Beijing as a Paralympic athlete for Team USA. (Wendy Remington)
Estimated reading time: 7-8 minutes
SALT LAKE CITY – It was as unexpected as it was relentlessly sought after.
Matthew Brewer of Salt Lake City learned Feb. 16 that he had earned a spot on the Paralympic team to represent Team USA in monoskiing in Beijing next month.
Now, it might be strange to say that something is both unexpected and sought after, but in Brewer's case, the Paralympic team was just a recent quest and not something he had even thought about for ages. years of difficult challenges.
Brewer, 46, nearly didn't make it — let alone become a Paralympian.
In 2008, at the age of 32, Brewer was diagnosed with testicular cancer requiring chemotherapy and took high doses of opiates for pain relief. And while the chemo was successful in killing the cancer, the drug led to a prescription drug addiction that nearly cost him his life.
"After chemotherapy I was prescribed painkillers which worked well for the physical pain I was in, but they worked very well for the mental pain," Brewer said. "I started abusing prescription drugs, and when I got cut off from it, I started using heroin."
The addiction lasted for five years, but during those years, Brewer said, it got worse before it got better.
From drug addict to paraplegic
After four and a half years of spending his life looking for his next fix, Brewer ended up in prison for heroin possession, where he spent the next three months sober. It was around this time, Brewer said, that he hoped for an intervention — anything to help him.
"When I was in prison, I thought to myself that if my family intervened, I would accept the help," recalls Brewer.
Her family had surgery, and Brewer accepted help, spending the next three months in a rehabilitation center. Between prison and rehab, he had been sober for six months and he was ready to rebuild his path to a healthy and productive life. At the time, Brewer was living in California and working in a commercial construction department at a Toys R Us in Long Beach. He ended up meeting someone and was hoping for a relationship. However, when that relationship didn't work out, Brewer said he turned to the one thing he knew could numb the pain: heroin.
"When you're in rehab you're taught a lot of good things to help you stay sober, but one thing I wasn't ready to deal with was rejection," Brewer said. "Rather than call my sponsor, I called my drug dealer."
Soon, Brewer found himself passed out in a bathroom for 18 hours after a heroin overdose. This amount of time caused what is called compartment syndrome in his legs, which is the result of a prolonged lack of circulation. Because of this, Brewer would have to have both legs amputated above the knee.
The amputations caused unimaginable pain in his legs and the part of his legs that was no longer there – what is called phantom pain. In order to relieve the pain, it would take the things that started it all: opiates.
Find hope and love
"At the hospital, the doctor told my mom I was going to be on opiates for the rest of my life, and she just cried," Brewer recalled. "I decided I was just going to take them as prescribed, but it was tough. I have a sister who's been my biggest supporter, and she was always waving at me and saying, 'You're taking too much medications.'"
It was his sister who, according to Brewer, not only helped him out of a life destined for more drug addiction, but also in healing.
"My sister is a hairstylist in Long Beach, and she had a connection with a producer on 'Doctors'," Brewer said. "I went on the show, and they put an experimental treatment on me called transcranial magnetic stimulation that was focused on treating depression. That's when my life started coming back."
Brewer got in touch with an amputee advocate who then put him in touch with the Hanger Clinic, and he was able to get prosthetics. However, with the weight he had gained, Brewer said it took him six months before he even tried them. In fact, he said that it wasn't until he went to what's called the bilateral above-knee amputee boot camp in 2017 that he was able to not only learn how to use his prostheses, but also to set goals for the future. .
Around the same time, he met Wendy Remington, a certified prosthetist at the Hanger Clinic. She asked Brewer a question that would change his trajectory.
"Wendy once asked me what was in my old life that I wanted to go back to," Brewer recalled. "I told him I wanted to get back into snowboarding."
Brewer talked about not only loving snowboarding as a kid, but also being ranked 14th in the country at one point. He explained that when Remington heard him talk about his love of snowboarding, she encouraged him to come to Utah, where she was from, so she could take him snowboarding.
"I got to Salt Lake, and Wendy took me snowboarding with an old friend of mine, and I got to get on a board and ride!" he said. "The problem is that it's extremely difficult to snowboard without the knees, so I got tired very easily."
It was then that Remington introduced Brewer to monoskiing, which is similar to snowboarding, but where both legs are squeezed into a single ski.
"Wendy told me I had to try monoskiing, and I was hooked immediately," Brewer recalls. "I could go fast, feel the wind in my hair and I could jump! I felt myself again for the first time!"
Be part of the Paralympic team
It was 2018, and Brewer had just learned the sport, but the competitor in him wanted more. He got a grant from the Challenged Athletes Foundation to get his monoski in 2019 and set his sights on the 2026 Paralympic Games in Italy, thinking it would take that long to learn the sport and get good at competing. He moved to Utah in 2020 to live with Remington, who is now his girlfriend, and train with the Abilities Center in Park City.
Unfortunately, the pandemic would rob him of two competitive seasons, with 2021 being his first real racing season. Brewer took to it quickly and began to place in major competitions. Last December, he placed fourth at a competition in Panorama, Canada, earning him a letter from the US Olympic and Paralympic Committee recognizing him as a potential candidate to qualify for the Paralympic Games in Beijing. .
"After I got that letter, I started training hard and studying to figure out exactly what I needed to do to qualify," Brewer said. "I learned that I had to be on the podium in two of my four events."
On Feb. 12 at the Huntsman Cup in Park City, Brewer managed to do just that, winning two gold medals in giant slalom and a third bronze in slalom. A few days later, he was informed that he had been selected to represent Team USA at the Paralympic Games.
Brewer said he was ecstatic, grateful and humbled as he looked at where he was and where he is now as a Paralympian.
"I'm 13 years cancer-free and had eight years of sobriety," Brewer said. "What I hope is that people know that recovery is possible. Not only did I recover from cancer, but I recovered from drug addiction and becoming a paraplegic.
"I hope people see that there is hope even when it feels like there is none."
Brewer leaves Monday for Beijing, and the Paralympic Games are scheduled for March 4-13.
To follow Brewer's progress, you can find him on Instagram @6packbrew. He also has a GoFundMe account which is set up to help him with costs as he continues his journey as an adaptive athlete.
---
*KSL.com does not guarantee that money deposited in the account will be applied for the benefit of the persons designated as beneficiaries. If you are considering a deposit into the Account, you should consult your own advisers and proceed otherwise at your own risk.
×
Pictures
More stories that might interest you